Opportunity to Practice and Improve AURAL (Listening Comprehension) English via Live Online Classes with Audio/Video Clips.
There will be a total of eight (8), 50-min live online classes throughout the 4-week course: two (2), 50-min online classes per week for the 4 CONSECUTIVE weeks (other schedule options are available; please ask).
Each class will give you practice with some important step in the process of improving your listening comprehension skills. Vocabulary/pronunciation will be explained so that you can practice, improve, and feel more comfortable when you engage in aural/oral English interactions.
This is a private, individual, 1-on-1 course, so you will get plenty of individual attention, practice, and results. If you want, you are free and welcome to invite your friend(s), relative(s), co-worker(s), and classmate(s) to your course!
Upon registration, the student will be emailed the link to a scheduler to book the date and time of the first class. Subsequent classes can be scheduled either via the scheduler or by agreement with the teacher.
The teacher is generally available for this course Mondays through Saturdays from 8 AM to 11 PM U.S.A. Eastern Time (New York). In other time zones: FROM [3 PM London | 9 PM China] TO [6 AM London | 11 AM China].
Instead of the entire 4-week course, you also have the option to pay for and take just one day or one or two or three weeks of the course! These weekly course sections can begin on any day during the course.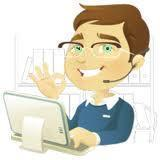 * Teacher Robert *
Teacher Robert is Cambridge English Language Trained for Adults (CELTA) Certified. He is focused on maximizing your results at your pace.